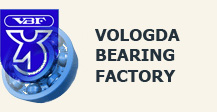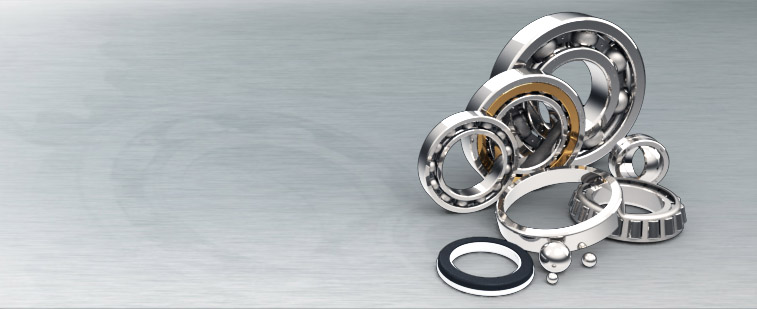 Other Products and Services
Vologda Bearing Factory has production capacity for the following treatment and processing of different parts:
1. Metal work
Blanking
Plasma-arc cutting of flat metal within the range of 0.5 to 64 mm, overall dimensions 2000х6000 mm
Gas-oxygen cutting of flat iron 6 to 200 mm thick, overall dimensions 2000х6000 mm
Shearing of blanks from metal roll with thickness up to 16 mm, width up to 3200 mm using crank shears
Welding
Manual arc welding of low carbon and heat resistant steels
Surfacing of worn cylindrical surfaces (such as shaft, rod) with surfacing wire SV-08Г2Сwith diameter 40 to 200 mm, length up to 1500 mm with further machining
Machining
Machining of parts up to 8 tons, diameter up to 2500 mm, height up to 1600 mm on turret lathes
Production of bevel pinions and bevel shafts with circular arc tooth up to module 10 mm
Production of spur gears with external tooth within module of 0.7 mm up to 12 mm of diameter 500 mm without tooth grinding
Production of pinions with internal tooth or cluster gears with module up to 8 mm, with diameter up to 500 mm without tooth grinding
Machining of parts with diameter up to 300 mm made of non-ferrous metals (brass, copper) on state-of- the- art CNC machines with milling function (mass production)
Machining of parts from bars and tubes, mass production of diameters 15.8 to 160 mm
2. Production of customized tooling and tools according to the customer's drawings
dies, pressforms, jigs, fixtures
cutting tools: tools of high speed steel, tools with brazed cemented-carbide tips
3. Forgedblanks, pressforging
Die forging steam-air hammer with falling weight 1 to 3 tons; forging hammer with falling weight 160 kg to 3tons, cross-edge rolling mills for parts up to 65 mm, machines with horizontal forging force 160 tons to 800 tons, coining press, furnace and induction heating, shot blasting drums.
Forged blanks up to 30 kg
machine building: pinions, rods, angle bars, cams, cross-pieces, shackles, hooks
pipe fittings: caps, lids, slide valve and valve chambers, stuffing boxes, flanges, gates, bolts for wrenches S=22…50 etc.
Blanks of open forging up to 700 kg (rolled rings up to Ø750 mm, discs, flanges. shafts)
Heat treatment: normalizing, volume hardening, high temperature tempering
Forging equipment capacity (mass production)

| | | | |
| --- | --- | --- | --- |
| Equipment | Forging blank dimensions, mm | Roddimensions, mm | Blank weight, kg |
| Л 309, Л324 | The biggest forged blank diameter - 120; The biggest forged blank height - 80 | Diameter 36 to 60 | 0,4-3 |
| Л 234 | The biggest forged blank diameter - 300; The biggest forged blank height - 20 to 60 | Diameter 35 to 80 | Up to 6 |
| КГШП | The biggest diameter of the die forging -240 The biggest die forging height -120 | Diameter up to 150 | Up to 30 |
| Hammer | The biggest forging diameter - 600; The biggest forging diameter height - 180 | Diameter up to 300 | Up to 100 |
4. Foundry.
Electric arc steel smelting furnace ДСП (EAF)-3М, molding frames 700х750 mm to 1600х2000 mm, rotoblast barrels and shot blasting chambers.
Steel and cast iron casts 15kg to 2.5 tons of steel grades: 20ГНМФЛ, 25Л, 35Л, 35ФЛ, 35ХГСЛ, 35ХМЛ, 45Л, 55Лwith mandatory tempering and normalizing.
5. Coldstamping
Multiple-point press stamping from 08 semi killed strip up to 185 mm wide (mass production)
single-point press stamping with force up to 400 tons.
6. Plastic and rubber goods
Production on state-of-the-art injection molding machines with Ø up to 300 mm, up 200 mm long and 200 mm high (lids, caps, cups, seal rings)
7. Electroplating
Chromium plating of parts up to 800 mm long and up to 300 mm in diameter
Zinc plating in the barrel up to 10 kg, barrel dimensions 700х400
Oxidation of parts up to 800 mm long and up to 300mm in diameter.
Nickel-plating of parts in bell-jar cell up to 100 gr, overall dimensions up to 100х40х4
Sulfiding of parts up to 500 mm long, up to 200 mm in diameter.
8. Heat treatment
HFC hardening of parts, strain-free die-quenching of parts, carburizing of parts, bright hardening.
9. Make washers
JSC VBF is ready to make washers with 4-10 mm bore, and diameter from 8 mm to the scrap diameter from punching scraps with 0,3 mm, 0,4 mm, 0,5 mm, 0,6 mm, 0,7 mm, 1 mm, 1,2 mm thickness and with 25-30 mm diameter.

Please see detailed information about washer dimenisions here.

10. Preservation and packaging of parts into shipping boxes
For inquiries please contact our
Sales Department
or order
our products and services at our website.